JEFFERSON CITY, Mo. – United States Attorney for the Western District of Missouri, Tammy Dickinson, announced today that six Fulton, Mo., individuals, along with a Columbia, Mo., man, a Jefferson City, Mo, man and five individuals in the Sacramento, Calif., area, have been indicted by a federal grand jury for their involvement in a $6.6 million mail fraud conspiracy that distributed synthetic marijuana, or "K2", at several retail locations in Callaway County, Mo.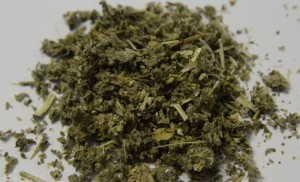 According to a news release, Jason Lee Houston, 36, Shawn Michael Browning, 25, Timothy Christopher Sandfort, 30, Brandon Derek Rader, 31, Joshua Adam Sheets, 30, and Dara Leanne Shirley, 30, all of Fulton; Casey Dewayne Miller, 32, of Columbia; Billie L. Bruce, 36, of Jefferson City; Raja Amer Nawaz, also known as "Rex," 41, a citizen of the Islamic Republic of Pakistan, and his wife, Sheila Marie Nawaz, 39, both of Roseville, Calif.; Michael James Butler, 39, of Sacramento, Calif.; Curtis Whayne Gonzales, 55, of North Highlands, Calif.; and Aleksandr Polyanskiy, 24, of Citrus Heights, Calif.; were charged in a 14-count indictment returned under seal by a federal grand jury in Jefferson City on Wednesday, April 20, 2016.
That indictment was unsealed and made public upon the arrests of Browning, Sandfort, Rader, Sheets and Shirley yesterday. They will have an initial court appearance today.
Arrest warrants remain outstanding for Houston, Miller and Bruce. Raja Nawaz, who was arrested on April 13, 2016, remains in federal custody. Sheila Nawaz, Butler, Gonzales and Polyanskiy will self-surrender to authorities in California.
The federal indictment replaces a criminal complaint that was filed against Raja Nawaz on April 12, 2016, and includes additional charges and defendants.
The indictment alleges that from December 18, 2012, to July 16, 2015, all of the defendants participated in a conspiracy to defraud the government and the public by selling synthetic marijuana under various trade names as "incense," "aroma therapy" or "potpourri" that were "not for human consumption" when these products actually were intended for human consumption as drugs.
According to the indictment, hundreds of shipments of synthetic marijuana were made to Callaway County. Synthetic marijuana was reportedly sold at Inscentives Resale, with one location in Auxvasse, Mo., and two locations in Fulton, and at S&J Smoke Shop in Holts Summit, Mo.
According to the affidavit filed in support of the original criminal complaint, these retail establishments grossed approximately $6,656,843 from the sale of approximately 799 kilograms of synthetic marijuana.
Undercover purchases of synthetic marijuana were allegedly made by law enforcement officers from these retail establishments. The affidavit says, on multiple occasions, law enforcement seized synthetic marijuana from individuals who had just left one of these retail establishments.
In addition, law enforcement officers responded to reported overdoses on synthetic marijuana that involved subjects who had purchased these substances from these retail establishments.
Category: Local News, News