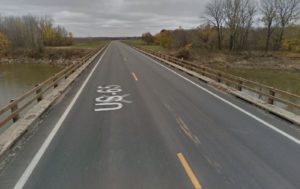 CHILLICOTHE — Due to wet weather conditions, the closure of the Grand River Bridge on Highway 65 in Livingston County has been postponed to next week, according to the Missouri Department of Transportation.
According to the news release, the bridge was set to close this Wednesday for three days, but with more rain in the forecast the closure has been rescheduled for Aug. 18 at 1 a.m. through Aug. 21 at noon to pour the new bridge deck.
Only emergency vehicles will be permitted to cross the bridge beginning the morning of Aug. 19. Non-emergency traffic will be allowed to used the bridge the afternoon the evening of Aug. 21 to allow for the concrete to cure. When the bridge reopens, it will again be open to only one lane.
All traffic will be directed over a a signed detour route on Routes Z, C, DD, D and U.S. Route 36. According to the release, the original detour utilized Route C between Z and U.S. Route 36, however it was determined that a bridge on C would not be able to support the influx of traffic from the detour off 65. Route C will be closed to all but local traffic during the detour.
The project to replace the bridge has been active since early March. Contractors plan to have the bridge open to two-way traffic in early December.