JEFFERSON CITY, Mo— According to the Centers for Disease Control (CDC), "enough prescription painkillers were prescribed in 2010 to medicate every American adult around-the-clock for a month." Figures from the Missouri Department of Health & Senior Services show nearly 900 deaths annually, which means deaths have more than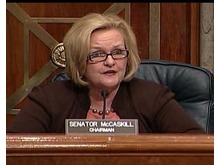 quadrupled in Missouri during the past 10 years.
U.S. Senator Clair McCaskill recently released this statement regarding the growing issue:
Release-
Missouri is right in the middle of a national epidemic. Last year, 40,000 Americans died of a drug overdose—nearly three in four of those overdoses were from prescription drugs and heroin. Prescription drug and heroin overdoses are the leading cause of unintentional deaths amongst Americans, rising 14 percent from 2013 to 2014. Further, in the last decade, the rate of heroin overdose deaths has increased by 286 percent. Missouri has one of the highest drug overdose death rates of any state in the country.  
Opioids are among the most commonly prescribed medicines, including drugs such as hydrocodone, commonly known as Vicodin, and oxycodone, also known as Oxycontin. Heroin belongs to the same class of drugs. Four in five heroin users started out by misusing prescription opioid pain medications.
There is no silver bullet to tackling this growing national epidemic, but experts agree that one critical step is establishing a Prescription Drug Monitoring Program (PDMP)—a program that collects information on prescriptions for controlled substances like opioids.
PDMPs help ensure that these medicines are used for legitimate medical purposes and identify when individuals are addicted to or abusing these powerful drugs.
49 of 50 states have established a PDMP. From California to Texas, Republicans and Democrats have worked together to establish these programs in the race to stop this epidemic. The lone outlier: Missouri.
Despite evidence that these monitoring programs can help reduce addiction and overdose deaths, our state legislature has refused to act. That inaction is unacceptable.
I recently led a hearing in Missouri to highlight this epidemic, talked to experts, and learned why our state was the only one that has failed to take this commonsense step. The hearing made clear that many dedicated health professionals, organizations, and public servants are interested in aggressively tackling this issue.
The hearing also made it clear to me that this isn't a partisan issue. There's a bill currently under consideration in our state to establish a PDMP, and that bill's lead sponsor, Holly Rehder is a Republican from Southeast Missouri. Holly attended my hearing and spoke passionately about her views regarding drug addiction, abuse, and deaths from drug overdose.
While Holly and I may not agree on everything, we certainly found common cause in our desire to take proactive steps to prevent addiction and overdose deaths in our state. Missouri deserves programs, laws, and lawmakers that are actively fighting this epidemic—and I plan to continue to focus on this at the federal level and continue to encourage my friends and colleagues to do the same in Missouri.
40,000 dead Americans in a year is a national emergency, and it's critically important our state takes every responsible action to address it.  
Please follow and like us:
Category: Local News, News, State News