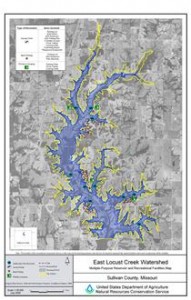 MILAN, Mo. — If you cross the Lake of the Ozarks or Truman Lake, Stockton Lake, Taneycomo, or any of a hundred other lakes in Missouri, you can't help but wonder, "what was at the bottom of that lake?"  This year's "No MOre Trash!" Blitz on Saturday, April 16th is a rare opportunity to "kick-around" at the bottom of the lake and learn about the plans for the proposed East Locust Creek Reservoir.
The North Central Missouri Regional Water Commission will be teaming up with the Missouri Department of Natural Resources' Stream Team and the Missouri Department of Transportation to clean up the area that will contribute to the East Locust Creek Reservoir. Crews will gather in Boynton on N Highway, just east of Highway 5 at 8:30 a.m. Maps of the clean-up area will be provided.
Last year, more than 60 Sullivan County residents joined in the clean-up, and The Missouri Stream Team provided t-shirts to early registrants.  This year's participants will also be treated to a post clean-up cookout.
East Locust Creek Reservoir will someday provide water for up to 10 counties and 54,000 customers and remove the threat of water shortages for area residents; Sullivan County is the only Missouri county to approach a Level 4 Drought, the most severe classification, and has suffered several Level 3 Droughts since 2000.
The reservoir will be able to produce some 7 million gallons of water a day, and the lake itself will extend nearly six miles, have 82 miles of shoreline and be the 28th largest lake in Missouri.  It is also the largest lake ever built under the sponsorship of the Natural Resources Conservation Service. To date, some $32 million has been expended or is planned to be expended on the project.
Category: Local News