Mornings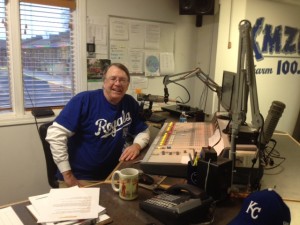 Donn on the air April 2015
Donn Emis returned to KMZU/KAOL in March of 2010 as Sports Director and came to Carrollton in part to spearhead the process of launching 1430 Sports KAOL as an all-sports station.With KAOL up and running Donn moved into an afternoon role on KMZU for several years. In 2013 he returned to mornings, a gig he had held on The Farm from 1988-1994. Donn keeps you company weekdays from 6 until 10 a.m. Donn is glad to be back in the area where he grew up (Corder, MO and a Higginsville High School graduate)…after being in Northwest Arkansas since 1998. Donn has been married to Judy (for 39 years) and has 3 daughters (Krista, Erin and Moriah) and one granddaughter (Jadyn).  His parents (Glenn and Dorothy Emis) still live in Corder.
KMZU "MORNING CHALLENGE"
("U.S. Air Force Week")  (Air Force founded 9/18/47)
MONDAY 9/19/16
If a Air Force Pilot is wearing NVG…what would that be?
(Night Vision Goggles)
TUESDAY 9/20/16
The Air Force long-range heavy bomber B-52 has a top speed of how many mph?
(650)
WEDNESDAY 9/21/16
The only operation base for the Air Force B-2 is where?
(Whiteman Air Force Base-Knob Noster, MO)
THURSDAY 9/22/16
In the Air Force…dressed in ABU is what?
(Airman Battle Uniform)
FRIDAY 9/23/16
In the Air Force…the E-8 rank is what?
(Senior Master Sergeant)