Mornings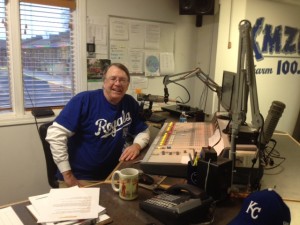 Donn on the air April 2015
Donn Emis returned to KMZU/KAOL in March of 2010 as Sports Director and came to Carrollton in part to spearhead the process of launching 1430 Sports KAOL as an all-sports station.With KAOL up and running Donn moved into an afternoon role on KMZU for several years. In 2013 he returned to mornings, a gig he had held on The Farm from 1988-1994. Donn keeps you company weekdays from 6 until 10 a.m. Donn is glad to be back in the area where he grew up (Corder, MO and a Higginsville High School graduate)…after being in Northwest Arkansas since 1998. Donn has been married to Judy (for 38 years) and has 3 daughters (Krista, Erin and Moriah) and one granddaughter (Jadyn).  His parents (Glenn and Dorothy Emis) still live in Corder.
KMZU "MORNING CHALLENGE"
("Kentucky Derby" Week) (142nd running of Kentucky Derby is May 7th)
MONDAY 5/2/16
The Traditional Drink at the Kentucky Derby is what?
(Mint Julep-Bourbon, Mint and a sugar syrup)
TUESDAY 5/3/16
How many fillies have won the Kentucky Derby?
(3) (From 1875-2015…Regret in 1915.  Genuine Risk in 1980.  Winning Colors in 1988)
WEDNESDAY 5/4/16
THURSDAY 5/5/16
FRIDAY 5/6/16