Mornings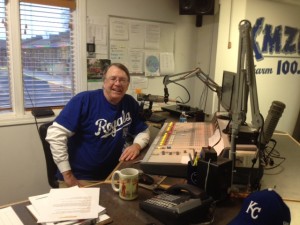 Donn on the air April 2015
Donn Emis returned to KMZU/KAOL in March of 2010 as Sports Director and came to Carrollton in part to spearhead the process of launching 1430 Sports KAOL as an all-sports station.With KAOL up and running Donn moved into an afternoon role on KMZU for several years. In 2013 he returned to mornings, a gig he had held on The Farm from 1988-1994. Donn keeps you company weekdays from 6 until 10 a.m. Donn is glad to be back in the area where he grew up (Corder, MO and a Higginsville High School graduate)…after being in Northwest Arkansas since 1998. Donn has been married to Judy (for 39 years) and has 3 daughters (Krista, Erin and Moriah) and one granddaughter (Jadyn).  His parents (Glenn and Dorothy Emis) still live in Corder.
KMZU "MORNING CHALLENGE"
("Hawaii" Week)  (Hawaii became 50th U.S. State this week years ago)
MONDAY 8/22/16
Hawaii became the 50th State on August 21st in what year?
(1959)
TUESDAY 8/23/16
What is the State name for Hawaii?
(The Aloha State) (it means love, affection, kindness, etc., and hello & goodbye)
WEDNESDAY 8/24/16
The State Bird of Hawaii is the Nene (Hawaiian Goose) and the humuhumunukunukupua'a is the State what?
(Fish-rectangular Triggerfish)
THURSDAY 8/25/16
Hawaii Island (Hawaii The Big Island) is larger than all of the others combined.  Which Island is the 2nd largest?
(Maui-great for Whale Watching in the Winter and maybe has the best beaches)
FRIDAY 8/26/16
What is the Hawaiian Dance with a chant or song called?
(Hula)