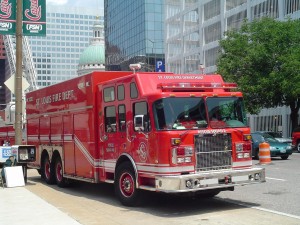 ST. LOUIS (AP) — Eight St. Louis firefighters have been awarded Firehouse Magazine's 2014 National Heroism Award.
A ceremony for the crew was Tuesday.
Capt. Mario Montero and firefighter Thomas Moore were honored for convincing a distraught woman to come down from a high-voltage power line at the Eads Bridge.
Firefighters Frank Carter, Licole McKinney and Vincent Smith were off-duty when the saw an accident in December. With the car on fire, the firefighters and bystanders used bricks to break open windows and rescue three people.
Firefighter Donald Champ rescued an unconscious child from a burning home.
Firefighter Thomas Gaska located an unconscious victim in a house fire in May.
Firefighter John Whalen heard moaning and pulled a fellow crew member to safety from an apartment fire.