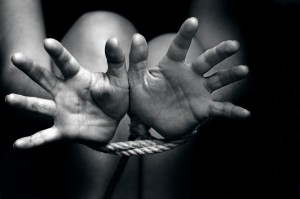 SAINT JOSEPH, Mo. — Human trafficking generate billions of dollars for those involved each year, being compared with 'modern day slavery.'
Human trafficking is only second to narcotics trafficking as the largest form of organized crime in the world, according to August's Trooper Talk from the Missouri State Highway Patrol. It is estimated that 1.9 million people fall victim to trafficking in North American every year.
According to Sergeant Jake Angle, Public Information and Education Officer for Troop H of the Missouri State Highway Patrol, human trafficking continues to be one of the most under-reported crimes.
"It's a crime that's often difficult to recognize," Angle explained. "The victims are … they're mentally controlled, physically controlled to the point where it is difficult to realize, you know, when you see someone, maybe an older subject, the trafficker, with some victims, it's hard to recognize or distinguish, are those people with that person voluntarily, or are they being controlled physically or mentally?"
While the abduction and exploitation of the victims is not as common in Missouri, the location of the state in the center of the country gives it a key role in stopping the crime.
"We have several interstates running through the state of Missouri and what we see through here is they're being trafficked through the state," Angle said. "What we need to do as a public here in Missouri, and also in law enforcement, is just to be aware. Look for those little clues, those little signs that, you know, maybe this is what's going on."
Anywhere between 14, 500 and 17, 500 individuals are trafficked through the United States each year, around 80 percent of which involves sexual exploitation. Angle said, unfortunately, human trafficking often times involves a child victim.
"Typically you see an older male subject with, maybe, several young females," Angle stated. "The victim's won't make eye contact very well, or if you would ask them a question or happen to bump into them and try to start up a conversation, they'll look to that older person for approval to speak."
Angle said any sign of mental or physical control should be taken seriously and reported immediately.
"Sometimes when you have that feeling in the pit of your stomach and that voice in the back of your head, sometimes we need to listen to that a little bit more."