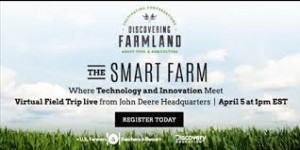 MISSOURI – The U.S. Farmers and Ranchers Alliance based in Chesterfield, Missouri, uses the majority of the education tools at their disposal to focus on bringing information about today's farms to urban area students and adults. The alliance believes educating a sector of students who do not have a consistent relationship with agriculture is of the utmost importance to the survival of the agriculture industry.
In an interview with KMZU's Shaylee Miller, Randy Krotz the CEO of U.S. Farmers and Ranchers Alliance discusses one of the bigger education tools recently utilized.
The U.S. Farmers and Ranchers Alliance spends the majority of their educational and promotional dollars to bridge the gap between urban and rural areas. Their most recent effort takes the form of a live virtual field trip of a farm, showing the combination of technology and agriculture.
The field trip is called The Smart Farm: Where Technology and Innovation Meet and is available for public participation and is free of charge.  Topics that will be included is the use of fertilizers, chemicals and some misconceptions of absence claims in some food productions, specifically GMO's and antibiotics.
The live virtual event will be hosted at Deere & Company World Headquarters in Moline, Illinois. Participants will get to see irrigation systems operated via iPad, computer chips monitoring animal nutrition, and tractors driven solely by GPS.
This virtual tour will take place, Tuesday, April 5, 2016, at 12 p.m. Central Time. To participate, just follow this link to register.
Krotz says U.S. Farmers and Ranchers Alliance has partnered with Discovery Education, the number one curriculum program in the United States. Through this a film has been produced, that launched in theaters and was later introduced to Netflix. Discovering Farmland has also produced an educational curriculum to be implemented in classrooms to educate students as to where their food comes from.
Krotz says the film Farmland was launched in urban area theaters across the country in an effort to bridge the gap between urban and rural communities. He goes on to explain how the alliance has taken this video further to incorporate the information into the classroom.