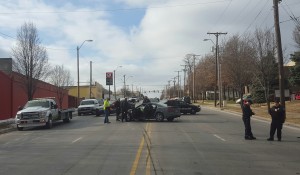 INDEPENDENCE, Mo. — Independence police have two suspects in custody related to a burglary early Monday afternoon.
Police received the call around 12:55 p.m. Monday as the victim witnessed three black male suspects break into her home in the 9500 block of E. Winner Rd., then leave in a vehicle with several of her belongings. She described the vehicle as a blue-grey Pontiac Grand Prix.
Police witnessed the suspect vehicle fleeing the area and attempted to conduct a stop. The suspects failed to yield and led police on a pursuit westbound on Truman Road.
Officers deployed a stop stick device on Truman Road at Blue Ridge Boulevard which successfully deflated a single tire on the vehicle. The vehicle continued on Truman Road, into Kansas City, before the driver lost control and collided with two westbound vehicles.
Two suspects were apprehended by police after fleeing the vehicle on foot. Both were taken into police custody and placed on a 24-hour investigative hold. Police will not release identification of the suspects until charges are filed.
Police said during the chase a pedestrian was struck by one of the vehicles previously struck by the suspect vehicle. He was transported to an area hospital with unknown injuries.