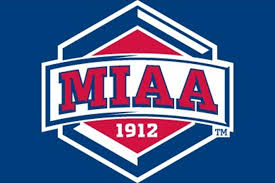 KANSAS CITY, Mo.(Press Release) – MIAA regular season champion Northeastern State earned six first place votes to sit a top the MIAA Women's Tennis Preseason poll announced today. On the men's side it was regular season and tournament champion Northwest Missouri earning all possible first place votes to find themselves on top of the poll.
In the women's poll it is MIAA tournament champion Southwest Baptist earning four first place votes to come in just four points behind the RiverHawks. Northwest Missouri earns the third spot in the poll while Nebraska-Kearney was just one vote behind them to finish fourth in the poll.
Central Oklahoma tallied a first place votes and was four points behind the Lopers for the fifth slot. Emporia State has been slated to finish sixth by the coaches with Missouri Western taking the seventh spot in the poll.
Just one point behind the Griffons is Washburn to is picked to finish eight with Lindenwood picked to finish ninth. Fort Hays State earns the 10th spot in the poll with Lincoln slated to finish 11th during the 2016 season.
On the men's side Nebraska-Kearney earned the only other first place vote and are five points behind Northwest Missouri. Southwest Baptist sits two points behind that in the third place spot. Washburn is slated to finished fourth, Lindenwood is picked first and Emporia State earns the sixth spot in the poll.
Most teams will get started with their spring seasons beginning the first couple weekends in February.
2016 MIAA Preseason Men's Tennis Coaches Poll:
 Northwest Missouri (5)  25
Nebraska-Kearney (1)  20
Southwest Baptist  18
Washburn  11
Lindenwood  9
Emporia State  7
2016 MIAA Preseason Women's Tennis Coaches Poll
1. Northeastern State (6)        96
Southwest Baptist (4) 92
Northwest Missouri 75
Nebraska-Kearney 74
Central Oklahoma (1) 70
Emporia State 57
Missouri Western 40
Washburn 39
Lindenwood 29
Fort hays State 22
Lincoln 11