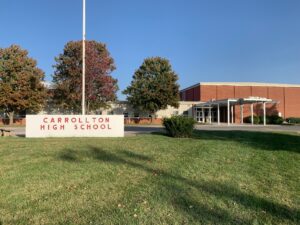 CARROLLTON — When Carrollton R-7 School District superintendent Danny DeWitt last spoke with KMZU in July, the vision for the upcoming school year was murky.
"We're in the business of planning for the summer and planning for the upcoming school year, but right now we're not sure what to prepare for because that information changes daily," DeWitt previously told KMZU. "The information being so fluid and changing all the time is making it really difficult to plan for the upcoming year."
Flash forward to October. To date, Carrollton schools has only seen one positive case of COVID-19, which was reported on Oct. 2. Partially maintaining Carrollton's spot as an island in a sea of outbreaks from counties over, DeWitt is impressed with how the school year is going.
"The school year is actually going very well," DeWitt says. "It was much better than we expected going into August, and we didn't know really what to expect. We've only had the one identified case here in school of COVID so far and I think the kids are adapting. It doesn't feel like a totally normal school year; I think everyone is glad to be back."
DeWitt gives credit to the safety measures that were put in place at the beginning of the year and staff and student cooperation for the school's ability to avoid the virus.
"I feel like we've put a lot of measures in place and I'd like to think that has some direct impact on why we're still here," DeWitt says. "I really believe that we have found some ways to be able to run school and manage the virus at the same time. I just think that what we are doing, what our teachers are doing, what our kids are doing, and our administrative staff is proving to be very effective so far."
Most of Carrollton's students are attending class in person. 50 kids in the district were signed on to do virtual learning at the beginning of the school year, however DeWitt says that number has since changed.  As Carrollton's students did not have to commit to one form of learning for the whole term, this allowed for students to have some flexibility in their education plans.
"I believe we were in the high 50s in terms of students who chose virtual learning," DeWitt says. "And I'm going to say we've had about 15 of those students come back. I think a lot of parents have looked at that like 'well this isn't as bad as we thought; there's preventative measures that are in place, they've been able to control the spread at least so far,' and so they've sent their children back or they've struggled with virtual learning – one or the other. Certainly, that number has dropped since we've started school."
As school continues into the late fall and winter, DeWitt doesn't foresee any of the guidelines and precautions changing. As for activities, the current restrictions are yet another example of Carrollton's ability to contain and prevent any sort of spread, to which DeWitt says people are "reluctantly adjusting but it's becoming more normal."  By the wintertime, however, DeWitt does expect some of the guidelines to change as the upcoming sports season will draw in larger indoor crowds.
"We are looking over the next probably two to three weeks of what that's going to look like in terms of the numbers of what we're going to limit in the gymnasium," DeWitt says. "There's certain guidelines to go by based on the square-footage of your gym, the seating capacity of your gym and the size of your student body. We're going to look at all of those things and determine what limitations we might have to set for winter sports – in particularly basketball because it brings in the biggest indoor crowd."
Another major change this year was the completion of the elementary school expansion. With the condensing of Adams Primary School into an extension of Carrollton Elementary School, all students within the district are in one central area. DeWitt says that amid the adjustment period for kindergarten and first grade students and teachers, the transition to the new building has been rather smooth.
"I think that it was a pretty seamless transition," DeWitt says. "We finished up right before school started so we were definitely down to the wire in terms of construction. I feel like everyone – at least from what I know and what I am hearing – has adjusted very well; teachers are happy with the new facility and everything looks really good."