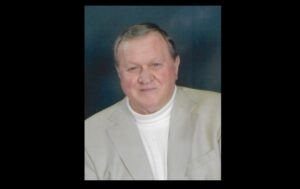 Guy "Gordon" Wright, of Lexington, died July 28, 2021. He was born on October 18, 1937, in St. Louis to Guy Lamar and Ethel Virginia (Burnett) Wright. He was preceded in death by his parents; two sisters, Beverly, and Barbara Allen; in-laws, Maurice and Helen Rodekohr, a brother-in-law, Maurice "Moose" Rodekohr and a sister-in-law, Sharon Rodekohr.
Gordon graduated from Lexington High School and began a 40-year career as a heavy equipment operator. He was a member of the Operating Engineers Local Union 101. He married Carolyn "Jeanene" Rodekohr on Jan. 6, 1955. He enjoyed working on cars, woodworking, fishing … and joking with most anyone he met.
He is survived by his wife, Jeanene; his sister, Brenda Wright; sisters-in-law, Shirley Rodekohr and Joyce (Charlie) Emerson; five children: Marsha (Sparky) Sharp, Mark (Carrie) Wright, Peggy (Brian) Oswalt, LeeAnn Wright, and Melissa (Nancy) Wright; 6 grandchildren: Brandon (Lee) Sharp, Carissa (Matt) Seek, Nathan Sharp, Dustin (Andelyn) Wright, Dylan (Amanda) Oswalt, and Derek Wright; 12 great-grandchildren and numerous nieces, nephews, and cousins.
Visitation will be held from 10 to 11 a.m., Wednesday, August 4, at Grace Lutheran Church in Lexington. The family requests that masks be worn at all times. A memorial service will follow at 11 a.m. and burial immediately following. In lieu of flowers, donations can be made to Grace Lutheran Church, the American Heart Association, or the American Diabetes Association. Arrangements have been entrusted to the Walker-Nadler-Fuller Funeral Home in Lexington.