UPDATE (12/28/15) 1:25 p.m. Traffic is returning to normal, or close to normal on I-70 westbound at Odessa following a 5 car pile up an hour ago. Both lanes are now open. Authorities continue to advise the population that travel should only be undertaken out of necessity. Road conditions continue to deteriorate with a winter weather advisory in effect until 9 p.m. Monday, December 28, 2015. If you must travel please use extreme caution.
ODESSA, Mo— KMZU has received reports of a five car pile-up on I-70 westbound near Odessa.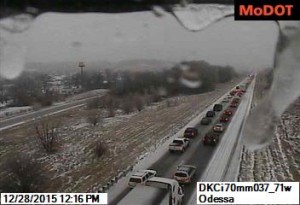 A dispatcher with the Missouri State Highway Patrol has confirmed the reports of the incident at the 37 mile marker and asked motorists to use extreme caution in and around the area.
Injuries and what caused the crash are currently unknown.
Emergency crews are on scene and traffic is moving through the area very slowly. The MSHP stated congestion is heavy, only one vehicle is being aloud to maneuver around the incident at a time.
Slick road conditions are being blamed for most of the incidents, which are leaving many drivers stranded after sliding off the roadways, on many sections of I-70 east and westbound.
Again if you are in the area or headed that direction, please use caution and allow plenty of space for emergency personnel to work the scene.