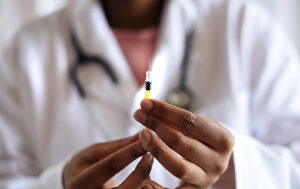 CARROLLTON — Five additional people in Carroll County have died from COVID-19 in the past week, according to yesterday's announcement by the Carroll County Health Department. To date, 28 county residents have lost their lives to the virus. However, active cases have decreased to from 38  to 26 in a seven-day period, according to the health department.
While the spread of the virus has eased in the state, more than 4,367 deaths were reported nationally on Jan. 20, adding to the grim death toll of more than 406,000 since the pandemic began a year ago.
Linn County Health Department stated today, Jan. 21, it has receive a small supply of the Pfizer COVID-19 for the county's patient-facing healthcare workers, designated as Phase 1a. Grundy and Randolph County Health Departments received its shipment of the COVID-19 vaccine for Phase 1a  this week; however, most have not received requested allotments for Phase 1b for older residents and frontline essential workers.
Demand for COVID-19 vaccines has far outpaced its availability. Gov. Mike Parson released his plan on Jan. 20 to bring in the state's National Guard to aid in a mass vaccination sites in each of the Missouri State Highway Patrol's troop regions.
Residents are asked to go to their county health department's social media pages for up-to-date information or to the state's website: covidvaccine.mo.gov.