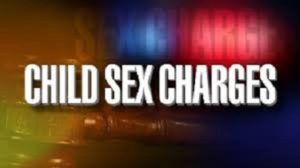 GALLATIN — Bond has been denied for a Pattonsburg man involving sex crimes against multiple children–  as young as 4 years old. Steven Dale Lawrence, 73, was charged Friday in Daviess County with first-degree sodomy of a victim younger than 12, multiple counts of child molestation and abuse, as well as numerous counts of supplying alcohol and showing pornographic material to minors. In all, Lawrence was charged with six felonies and eight misdemeanors — ranging from the most severe unclassified felony to misdemeanor drug paraphernalia. Court documents say these incidents occurred in May and December of 2020.
Lawrence denied "specific allegations" to Daviess County Sheriff's deputies when interviewed on Jan. 7, according to the probable cause statement. A search warrant of Lawrence's apartment, also on Jan. 7, allegedly found a small amount of marijuana,  a Spider Man bong with pot residue, as well as empty cans of beer and half-drunk bottle of Crown whiskey, which the victims' said they were allegedly given by Lawrence.
The Daviess County Sheriff's Office says additional charges over a 30-year span are pending. He's currently in custody in the Daviess-DeKalb County Regional Jail. No court dates have yet been set.