MISSOURI — On Tuesday of last week, nearly 700 people gathered at the Gary Dickinson Performing Arts Center in Chillicothe for the 79th Annual Meeting of Farmers' Electric Cooperative.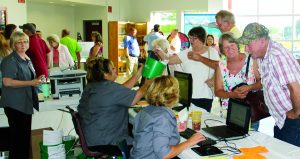 According to a press release, General Manager, Rod Cotton, outlined the results of the Cooperative's strategic planning process and went over key strategic initiatives which include: financially strong Cooperative, reliable electric service, skilled workforce and Member engagement.
The Cooperative also reportedly took advantage of the low interest rate environment to refinance long-term debt that resulted in savings of nearly $4 million dollars in interest payments over 18 years. Cotton said that the Cooperative retired just over $1.2 million dollars in capital credits as well.
Also on the agenda at the meeting were plans to construct a new warehouse, the reelection of three directors to serve three-year terms, and the election of the 2018 Committee on Nominations.
Farmers' Electric Cooperative is a Member-Owned business providing rural electric service to residents in nine North Missouri counties: Caldwell, Carroll, Chariton, Clinton, Daviess, Dekalb, Livingston, Linn and Ray. With headquarters in Chillicothe, Missouri, they currently serve more than 13,000 meters with close to 3,800 miles of electric power lines.
For more information visit the Farmer's Electric Cooperative website.