BENTON COUNTY, Mo.– Two local residents were transported to the hospital following an ATV accident in Benton County last night.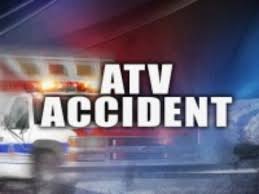 The crash occurred on Colony Rd, just north of Settlers lane at 6 p.m. Tesla Barnes, 13, of Bates City was driving, and lost control while going downhill, and overturned.
Both Barnes and occupant Jonathon Norman, 10, of Odessa were ejected from the vehicle and transported to Lake Regional Hospital for treatment of moderate injuries.