NODAWAY COUNTY, Mo. – A driver was injured during a one vehicle crash in Nodaway County Wednesday morning, December 2, 2015.
According to the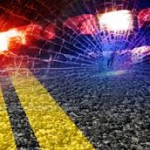 Missouri Highway Patrol, Ehab Hilali, 39, of Kansas City Missouri was eastbound on Route A in Graham just before 6am when he ran off the roadway. The vehicle struck a culvert before crossing the roadway, struck some trees and overturned .
Hilali was transported to Mosaic Life Care with serious injuries.