CHILLICOTHE, Mo— A Chillicothe Business found a way to give back to their community two years ago and the tradition carries on.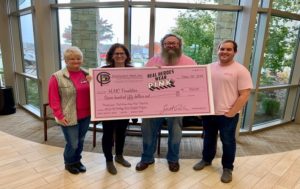 Graphic Designer for Community Press Incorporated, Greg Young says, the "Pink-Out" fundraiser stemmed from the cancer battle their founder faced.
Young adds, the Hedrick Medical Center Oncology Nurse Navigator program receives all the proceeds. Recent talks that Hedrick's program might extend to Wright Memorial Hospital, in Trenton, opens opportunities for the fundraiser.
For questions about the fundraiser, call Community Press at (660) 646-2360 or find them on Facebook.