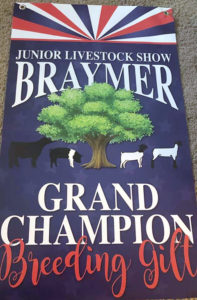 BRAYMER — Exhibitors are flocking from many states to compete on July 3 and 4 at Braymer's Junior Livestock Show at Tait Park. The show, which is open to any youth under age 21, kicked off with the its cattle show at 9 a.m. July 3. Goat and sheep shows follow at 3 p.m. One of the organizers, Paige Brock, says the show typically draws a big crowd, and COVID may bring a new crop of exhibitors because some county fairs have been canceled.
"The junior nationals for the swine show is in Iowa next week, and so they are looking for spots on their way to Iowa — and we're the on way," Brock told KMZU.
Poultry and swine shows are scheduled for 9 a.m. July 4. Last year, Brock said the hog show brought 260 entries.
More details are can be found in the KMZU community calendar page.