JEFFERSON CITY, Mo. — The Missouri Coalition for Roadway Safety dedicates a week-long campaign focusing on pedestrian safety, focusing on and educating both pedestrians and drivers on how to be aware and what to watch out for to ensure everyone's safety.
KMZU's Brian Lock talked with MoDOT spokesperson Tara Van Loo about some tips to make sure pedestrians stay safe this summer on Missouri's roadways.
Click below to hear their conversation, which aired Wednesday on KMZU.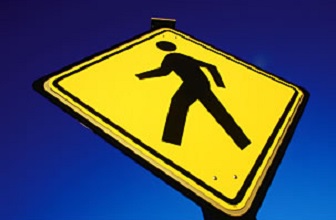 Unfortunately, as a news release from the coalition reports, 98 pedestrians were killed in Missouri, while another 264 were injured seriously. Three pedestrian contributing factors with the highest correlation to death or injury were failure to yield, alcohol or drug impairment, and distraction/inattention.
While the aforementioned factors aren't the only ones that can contribute to a pedestrian-involved crash, following simple guidelines may decrease your odds of being involved in either end of a pedestrian-involved accident.
"We want to be sure that citizens are as safe as possible in all modes of transportation," Nicole Hood, Missouri Department of Transportation (MoDOT) Highway Safety and Traffic Engineer, said. "We encourage all drivers, cyclists and pedestrians to make safe choices so everyone, no matter the mode of transportation, makes it to their destination safe."
"At some point in the day, everyone is a pedestrian," Tara Van Loo, MoDOT's child passenger safety coordinator, said, citing parking lots and bus stops – among other settings and scenarios – where non-drivers are in a position to potentially be involved in a crash.
Van Loo offered these tips to avoid a potential pedestrian-related accident:
"Drivers and pedestrians need to make eye contact with each other. Don't assume that the other one has seen you when you are arriving upon a crosswalk as a driver or the pedestrian in a crosswalk or crossing the street."
"If you do have a stalled vehicle alongside the roadway, if you must exit that vehicle, please do so on the opposite side of traffic and do not attempt to walk  across the oncoming traffic; if you can, only cross at an intersection or a crosswalk."
"Avoid walking while wearing your headphones or being on your cell phone; it is very important when you are walking across the street or at a crosswalk waiting to walk that you are always attentive and are not watching your cellphone or your device or have headphones on while crossing the street."
"When you are walking, always walk against the flow of traffic, rather than with the traffic. That way, you can be aware of the traffic coming towards you so if something does happen, you can have the ability to move out of the way quickly if you have to."
"Always be cautious when exiting parking lots and be on the lookout for pedestrians when you are a driver, and again, as we always say, buckle up and phone down as the driver. That goes with this campaign too, because you need to make sure you're not on your cellphone when driving because that is a big distraction."
Resources are available to help both pedestrians and drivers avoid accidents with pedestrians. For more information, please visit savemolives.com, www.nhtsa.org, or www.modot.mo.gov.