BOONE COUNTY, Mo. – A St. Charles man, accused of soliciting a child for sex in Boone County, has a bench trial this week, after a pre-trial conference at 9:00 a.m. Monday morning.
Zachary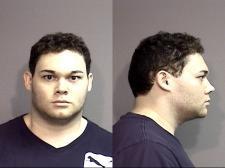 Robert Davis, 24, is charged with felony counts of Attempted Enticement of a child less than 15 year of age, Attempted Sexual Misconduct with a child under 15 and Attempted Statutory Sodomy in the Second Degree.
The M.U. student was arrested after soliciting sex from a police detective he thought was a 15 year old boy.