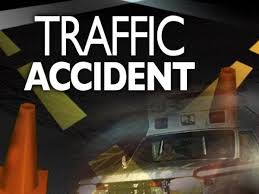 BLUE SPRINGS, Mo.- Reports of an accident on Interstate 70 have been confirmed by the Missouri Highway Patrol. According to the crash report the accident occurred on eastbound I-70 just east of Adams Dairy Pkwy exit in Blue Springs, Mo. Three vehicles are reportedly involved in which two have been left totaled and one fled the scene.
The crash occurred when Randall Stevenson, 21, of Odessa, Mo. struck the rear of Michael Fisher, 42, also of Odessa which propelled him forward striking a third vehicle. After the impact Stevenson drove off the left side of the freeway and struck a cable barrier. Stevenson and Fisher along with the occupant of Fisher's vehicle,  Lane Fisher, 16, were transported to Centerpoint Medical Center for treatment of moderate and minor injuries.
The third vehicle involved is and unknown pickup with towing trailer attached. Identity of drive is still unknown at this time.