LIVINGSTON COUNTY, Mo. – A trial setting is expected to take place in Livingston County today, November 9, 2015.
Court documents indicate a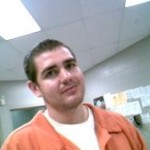 hearing is scheduled at 3:00 p.m. this afternoon for Brian J. Adkison, 26, of Columbia. Adkison is charged with felony counts of escape or attempted escape and damage to property at the Caldwell County Jail. Adkison was being held on several felony charges in August of 2013 when he pried his way through the ceiling of his cell and escaped from confinement. He was later located in Ohio and extradited back to Missouri.