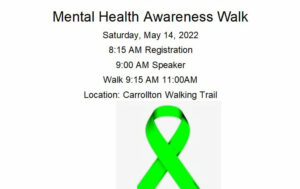 CARROLLTON – Local mental health advocates Mercy Road Recovery Center Executive Director Misty Kemble-Williams and Carroll County MU Extension county Engagement Specialist Sue Robison have come together to inform KMZU of the Annual Mental Health Walk in Carrollton. Kemble-Williams tells KMZU the regulations and times for registration.
Kemble-Williams states the importance for reaching out and ending the stigma attached to mental health through a personal story.
Kemble-Williams says that multiple organizations and people will be at the walk for attendee to talk to about mental health. She gives description and background on the speakers.
If your mental health is in danger, reach out for help as Kemble-Williams advises.
Robison stresses the importance of supporting friends and loved ones.
If you or someone you know is in danger contact someone as Sue Robison offers resources.