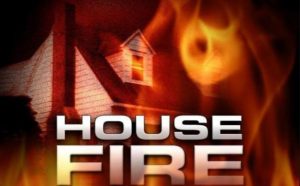 JOHNSON COUNTY, Mo.- The Johnson County Fire Protection District responded to a structure fire last night, Sunday, July 24, 2017, in rural Johnson County about five miles north of Leeton, Mo.
At approximately 10:10 p.m., crews were dispatched to a residential structure fire with extensive fire involvement on the exterior and in attic areas of structure. According to the report, an attached garage had already burned to the ground. Access to the scene was hindered by a live power line which fell across the roadway at the residence prior to crews arriving.
Fire crews aggressively attacked the blaze including roof operations but were unable to extinguish the fire. After four hours, the residence was determined to be a complete loss and the fire crew was halted due to firefighter safety.
Four Johnson County firefighters were injured in during the process of extinguishing the blaze. Three were treated and released on scene for heat related injuries. One firefighter was treated at a local hospital for a back injury.
No occupants of the home were injured in the fire and the cause is under investigation.