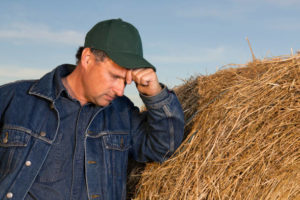 High stress levels among America's farmers and ranchers is an issue that goes easily unnoticed. Agriculture organizations including USDA's Cooperative Extension System, Farm Credit, American Farm Bureau Federation and National Farmers Union has recognized the need and worked together to sponsor an online training course as a solution.
According to Farm Credit, the "Rural Resilience: Farm Stress Training" course is offered at no cost to participants. This training is designed to help farmers, their families, and friends acknowledge signs of stress and suicide-contemplation, focus on effective communication techniques for those under stress, and ways to address mental health concerns in an attempt to assist in properly handling farm-related stress.
The information in the course was created by Extension personnel at various universities including Michigan State University, University of Illinois, University of Wisconsin, Montana State University and South Dakota State University. Made financially possible by the agriculture sponsors, this opportunity is designed to better provide the agriculture community with the resources needed in challenging times.
According to the course description, this self-paced course is outlined in 3 units: managing stress, communicating with distressed farmers, and suicide awareness. To aid learning, participants can expect engaging content, self-paced activities, voice-over slide presentations, and downloadable resources. The course will be offered until June 14, 2021.
For more information or access to the free online course, visit the course description at the D2L Open Course website.