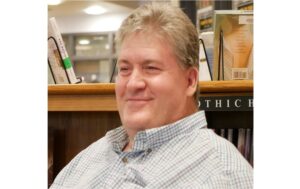 Alan William Bear, 61, of Higginsville, Missouri passed away on Saturday, September 12, 2020, at Centerpoint Medical Center in Independence, Missouri.
Funeral arrangements have been entrusted to Hoefer Funeral Home and online condolences may be left to the family here.
A private funeral service for family will be held at the First Presbyterian Church in Higginsville with Rev. Liz Lindsey officiating. Interment will follow in the Higginsville City Cemetery. A public visitation will be held from 6:00 PM to 8:00 PM, on Wednesday, September 16, 2020 at the church. Because of the current health conditions, masks and social distancing are highly encouraged.
Casket Bearers: Andrew Bear, Tim Biesemeyer, Bobby Gillilan, Matt Hagerty, Dwayne Marsh, Dan O'Halloran, David Shafer, Mike Shafer.
Memorial contributions may be made out to American Diabetes Association or the Special Olympics.
He was born Wednesday, October 15, 1958 in Lexington, Missouri, and was the son of the late William Bear and Lula Jane Bear (Blevins) of Higginsville.
Alan graduated high school from Lafayette County C-1 in 1977. He graduated college from CMSU in Warrensburg with a Bachelor's in Business Administration. Alan loved sports and was a great athlete during school. He played football, basketball, and baseball. Just a few years ago he was inducted into the Husker Hall of Fame.
The Bear family's roots are deep with history in Higginsville. Alan was proud that the Bear family founded the First Presbyterian Church of Higginsville in 1842 and it has grown to what it is today. Alan enjoyed church and was an active member. He sang in the choir, was a church historian, a youth Elder, Deacon and Ruling Elder.
Alan was a long-time farmer and was proud to be a part of the family's farm that has been in their family since it's purchase in 1840, almost 200 years. He enjoyed history and collecting coins. He sang for the Circle of Friends, Lafayette County singers group.
Alan was a devoted father to his two sons, a caring son that was always helping his mother with chores or errands, and a friend to everyone. Alan knew the true meaning of integrity. The family just learned that he often would check on elderly, widowed neighbors to make sure they didn't need anything from town or anything done. He truly was a friend to all. Alan will be greatly missed by his family, friends, and his community.
Surviving are his mother, Lula Jane Bear of Higginsville; two sons, Adam Bear and Andrew Bear both of Higginsville; two sisters, Janelle (Dan) O'Halloran of Oak Grove, MO and Avian Bear of Overland Park, KS.
He is preceded in death by his father, William Bear.