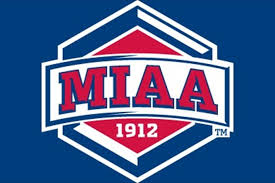 Kansas City, Mo. – MIAA regular season champions Central Oklahoma placed five members on the All-MIAA first team as it was released today.
The MIAA Player of the Year Carly Sojka an outside hitter from Central Missouri highlights the first team. She leads the MIAA in kills per set averaging 4.17 on the year with 455 total kills. She is joined by Washburn's Leanna Willer, Missouri Western's Annie Wolfe, Missouri Western's Jessie Thorup and Northwest Missouri's Maddy Bruder.
From Central Oklahoma on the first team at outside hitter are Barbara Jackson and MIAA Freshman of the the Year Taylor Bevis. Bevis averaging 3.36 kills per set while hitting .299 on the year.
At middle blocker is Central Missouri's Maddie Jones, Washburn's Sarah Vicory, Central Oklahoma's Jordan Spence and Nebraska-Kearney's Tara Ziegelbein. The two setters on the first team are Central Oklahoma's Katy Davis and Missouri Western's Jordan Chohon.
At Libero on the first team are Central Missouri's Annie Reilly and Central Oklahoma's Whitney Gifford. UCO's Edgar Miraku was named the MIAA Coach of the Year after leading his team to their first MIAA title.
The MIAA Tournament is scheduled to get underway tonight with match-ups hosted by the top four seeds.
Player of the Year: Carly Sojka, OH, Central Missouri
Freshman of the Year: Taylor Bevis, OH, Central Oklahoma
Coach of the Year: Edgar Miraku, Central Oklahoma
First Team
Outside Hitter: Carly Sojka, Central Missouri^
Outside Hitter: Leanna Willer, Washburn^
Outside Hitter: Barbara Jackson, Central Oklahoma
Outside Hitter: Taylor Bevis, Central Oklahoma
Outside Hitter: Jessie Thorup, Missouri Western
Outside Hitter: Annie Wolfe, Nebraska-Kearney
Outside Hitter: Maddy Bruder, Northwest Missouri
Middle Blocker: Maddie Jones, Central Missouri^
Middle Blocker: Sarah Vicory, Washburn^
Middle Blocker: Jordan Spence, Central Oklahoma
Middle Blocker: Tara Ziegelbein, Nebraska-Kearney
Setter: Katy Davis, Central Oklahoma
Setter: Jordan Chohon, Missouri Western
Libero: Annie Reilly, Central Missouri
Libero: Whitney Gifford, Central Oklahoma
^=Unanimous selection
Team reflects a tie in the voting
Second Team
Outside Hitter: Crystal Whitten, Fort Hays State
Outside Hitter: Mallory Flagor, Fort Hays State
Outside Hitter: Kaitlynn Thomas, Nebraska-Kearney
Outside Hitter: Taylor Selk, Washburn
Outside Hitter: Miranda Foster, Northwest Missouri
Outside Hitter: Bailey Dvorak, Lindenwood
Middle Blocker: Allison Barr, Central Oklahoma
Middle Blocker: Rachel Friedrichs, Missouri Western
Middle Blocker: Kayla Guyot, Lindenwood
Middle Blocker: Shayla Cotman, Emporia State
Middle Blocker: Rebekah Spainhour, Fort Hays State
Middle Blocker: Jackie Becker, Northwest Missouri
Setter: Kourtney Thompson, Central Missouri
Setter: Liz Powell, Washburn
Setter: Sarah Dannettell, Northwest Missouri
Setter: Erin Seele, Nebraska-Kearney
Libero: Alyssa Carney, Washburn
Team reflects a tie in the voting
Honorable Mention
Central Missouri: Kylie Hohlen, OH; Cheyanne Lyons, OH; Kasey Hohlen, MB
Central Oklahoma: Bonnie Vernon, OH
Emporia State: Josie Williams, OH
Fort Hays State: Sydney Dixon, OH; Megan Anderson, MB
Lindenwood: Anna Reichert, L
Missouri Southern: Callie Whetstone, MB; Payton Graves, MB
Missouri Western: Lindsey Partridge, MB; Kayla Ruff, L; Shellby Taylor, OH
Nebraska-Kearney: Ellie McDonnell, L
Pittsburg State: Hayley Hansford, S; Ashlen Schwartz, L
Southwest Baptist: Payton White, MB; Anna Stuehm, S; Hannah Blount, L
Washburn: Korie Thompson, OH