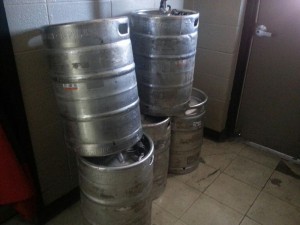 LIVINGSTON COUNTY, Mo. — The Livingston County Sheriff's Office began an investigation Monday, July 27, 2015 based on allegations of minors hosting a drinking party on private property without the landowner's consent.
According to a press release by the sheriff's department, the allegations also state the minors are members of the Amish community. After searching the property in northwest Livingston County, 5 mostly empty beer kegs were discovered, as well as much alcohol related litter.
Authorities have made contact with some of the youth who reportedly admitted to attending the party, as well as their parents. The Amish minors are required to clean up the area where the party was held and apologize to the land owner.
The Sheriff's of Daviess, Grundy and Livingston County have reached out to the Amish communities in their territory, which has proved to have a positive response with the community leaders in partnering to ensure this doesn't happen again. Livingston County has identified a suspect, who possibly provided the alcohol to the minors. No arrests or charges have been filed yet.