ANDREW COUNTY, Mo. – A St. Joseph man has an arraignment trial scheduled for 2:00 this afternoon in Andrew County.
According to court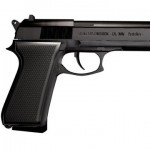 documents, Nathan D. Stanton, 28, is free after posting a surety bond on a class B felony unlawful use of a weapon for shooting from a vehicle, three class D felony unlawful use of a weapon for concealing, carrying while intoxicated and exhibiting as well as two class C Felony counts of endangering the welfare of a child in the first degree.
Stanton was charged after it was alleged that he shot into a residence in Bolckow in October of last year.