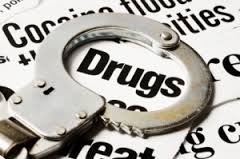 ANDREW COUNTY, Mo – An arrest Sunday afternoon, January 31, 2016, saw the subsequent incarceration of a Colorado man for drug trafficking.
Missouri Highway Patrol assisted with the arrest of Curtis D. Barker, 50, of Conifer, Colorado, who was eventually arrested on six, preliminary charges.
Felony trafficking, unlawful use of a weapon and drug possession were included in an arrest report.  Charges for speeding and no seat belt were also tacked on the list.
Barker will spend the duration of a 24-hour investigation in the Andrew County Jail as formal charges are sought.