Internship applications are now available for 2022; applications are due December 1st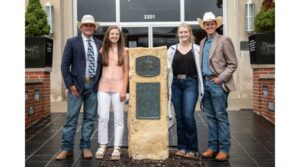 The 2021 Angus/Talon Youth Educational Learning Program Interns during their visit to the American Angus Association® headquarters in Saint Joseph, Missouri. Pictured from left are Denny Atchley, Texas Tech University; Madison Smith, University of Tennessee at Martin; Lauren Ziegler, Washington State University; and Ben Harman, Southern Illinois University Carbondale. (Courtesy Photo)
St Joseph– For many, hands-on learning serves as the most engaging, interactive, and practical way to retain information. The Talon Internship Program provides college-aged students the unique opportunity to spend their summer on an Angus operation gaining valuable, hands-on experience. Interns will gain extensive ranching knowledge while complimenting their skills as advocates for the beef and agriculture industry. Applications for the Angus/Talon Youth Educational Learning Program Internship are due Dec. 1.
During the internship, recipients visit both the American Angus Association® headquarters in Saint Joseph, Missouri and Certified Angus Beef® LLC in Wooster, Ohio. Additionally, interns get the opportunity to participate in numerous Angus and beef cattle activities off the farm, such as educational events, conferences, field days and much more.
Compensation for Talon interns is provided by the Angus Foundation through the Angus/Talon Youth Educational Learning Program Endowment Fund.
Students interested in applying for the Talon internship program can find the application here
For more information on the Talon internship program, contact Thomas Marten at TMarten@Angus.org or visit angus.org/foundation.