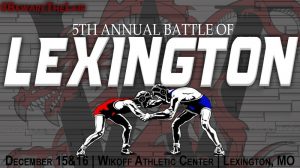 LEXINGTON, Mo. (Press Release)- The college men's and women's wrestling wrestling teams will be hosting their annual Battle of Lexington wrestling tournament this weekend, which has grown to be the second largest high school wrestling tournament in the state of Missouri.
This year, the tournament will feature over 40 teams during the two day event. This year, Wentworth Wrestling is teaming up with the US Marine Corps Reserve Toys for Tots charity. The mission of Toys for Tots is to collect toys to give to less fortunate children so they can experience the joy of presents on Christmas morning like all kids should. Toys for Tots stated goal, according to their website, is "to deliver, through a new toy at Christmas, a message of hope to less fortunate youngsters that will assist them in becoming responsible, productive, patriotic citizens." The wrestling teams are excited to be able to contribute to this amazing charity, and are seeking the help of the community as a whole.
To contribute to the program, bring a new and unwrapped toy to the Wikoff Athletic Center. All toys donated will remain in Lafayette County, going to those children in the community who are in need. Fans who participate in these efforts by bringing a toy will be offered a discount on their ticket price for single day and two-day passes.
Wentworth will be using Track Wrestling to record the results for each bout. Can't make it to the tournament? Follow your wrestlers at http://bit.ly/2h1kLc2 and stay up-to-date on their progress throughout the weekend.
Wrestling will begin at 4 PM on Friday and 10 AM on Saturday following weigh-ins and the coaches meetings.