Tyler Edmunson; Race Committee Member: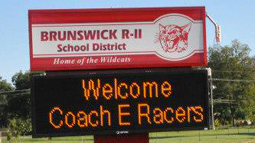 BRUNSWICK, Mo.- 2015 will mark the 9th anniversary for the annual Coach "E" 5K.  This increasingly popular foot race is scheduled to be held October 3rd during the Pecan Festival weekend. Walk up registration on race day is $30.00 and runs from 7:00 a.m. to 7:45 a.m. on the morning of the race.  All entries will receive a T-Shirt for registration. New as of 2015 is the 10k.  Walk up registration on race day is $40.00.
This spectacular event occurs each year to help preserve memories and educate others about the dedication, sacrifice and love of a very special person that touched the lives of so many before his passing in 2006.  Jim Edmundson, also known as "Coach E" dedicated 32 years of his life in the Brunswick School District molding and grooming the students and athletes of BHS for their future as well as doing his part to help improve the Brunswick Community.
Founded by Wayne Jones and Jim Brett in 2007, the Coach E Races take place each year during the Pecan Festival.  The occasion has grown to the point of drawing participants from Coast to Coast. These events endure the legacy of a renowned soul and continue to show that Coach E, even in spirit, will always be a part of the school and community, and forever be held in the hearts that knew and loved him, and an influence on generations to come.
The funds generated through the Coach E. Races are used to benefit the community of Brunswick with the main focus on the students in the Brunswick R-II School District.  Each year at least two scholarships are awarded to an outstanding male and female student-athlete.  The Coach E. funds have helped support projects at BHS that enhance student opportunities to enjoy athletics such as:  basketball goals in the multi-purpose room, new softball/baseball dugouts, basketball shooting training aids, and more.
To register for the event click HERE.