UPDATE: – 5:30 p.m. – Police say the amber alert issued today for a Lenexa girl has been cancelled.  
Amber Rewarts-Schiavoni was found safe in Minnesota, while a suspect, Deshon White was taken into custody.  The alert was rescinded around 5:30 p.m. Friday.
LENEXA, KS – Police say an amber alert was issued for a 13-year-old girl who may be in the KC metro area, or northwest Missouri, with a 23-year-old man.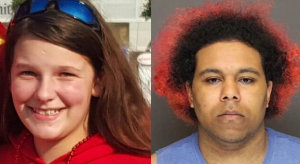 The alert names Amber Rewarts-Schiavoni, who was reported missing Wednesday night. She is described as 5'5″, 140 lbs, with long dyed black hair, blue eyes. She may be wearing black jeans, and a sons of anarchy t-shirt. She could be in the company of Deshon White, 23, a black male, 6'0″, 250 lbs with dyed orange hair.
Anyone with information is asked to call 911, Lenexa Police at 913-477-7737 or the TIPS Hotline at 816-474-8477.