NEWSMAKER: 4/23/20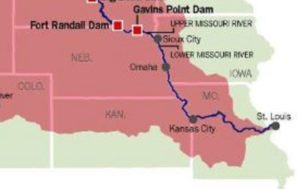 With focus this year on health concerns, certain area residents will be trying not to forget events of last year.
The Army Corps of Engineers has urged the media not to forget last year's flooding, or the potential for flooding this year. Information for April, which would normally be the subject of public meetings, was released on line this month, with forecasts showing some possibility for flooding.
Doug Cluck, with NOAA also says current soil moisture, which would prevent new moisture from being absorbed, is still enhanced.
Cluck also said precipitation chances through July would also be above normal.
Kevin Low, with national weather service concurred also indicated enhanced risk of flooding will be present for portions of the river basin, including Missouri.
The Corps last year discussed the possibility of providing more storage capacity in upstream reservoirs to mitigate downstream flooding.
Kevin Grode, Reservoir Regulation leader, indicated flood storage space still remains in the major storage zones.
Team leaders also maintain that the lower Missouri remains unregulated, and efforts to mitigate flooding in the region by controlling releases upstream, is difficult.
A bill sponsored by U.S. senator, Roy Blunt of Missouri, establishing a lower Missouri River flood prevention program, introduced last month, has been referred to the Committee on Environment and Public Works.