NAFB — Southern Africa's food security is being threatened by armyworms.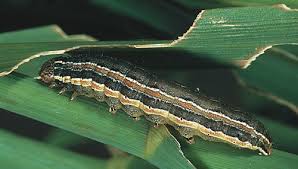 The NAFB reports that Zambia's corn crops are being wiped out by the armyworms. The black-striped caterpillars can appear between December and May, as armies of the pest spanning miles and as dense as 1,100 per square meter march through fields, destroying entire crops. Armyworms and other pests had already attacked at least half of the country's 10 provinces by last week, according to the Zambia National Farmers' Union.
According to the Disaster Management and Mitigation Unit, about 90,000 hectares have been affected. Zambia's President Edgar Lungu last week directed the air force to help airlift pesticides to fight the outbreak, the country's first major attack since 2012, when armyworms cut the corn harvest by 11 percent.