PETTIS COUNTY, Mo. — A man accused of stabbing another person in May in a shopping center parking lot will appear before a judge in Pettis County Tuesday afternoon.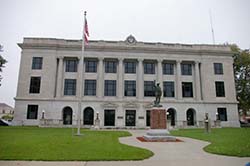 Court documents indicate that the incident occurred in the 3100 block of West Broadway Boulevard in the car park of the Thompson Hills Shopping Center on May 13. Travis Ballew, 37, of Sedalia, allegedly stabbed a person with a sharp object, believed to be a box-cutter, before he fled the scene of the crime.
Ballew now faces felony charges for first degree assault causing serious physical injury and armed criminal action.
He will appear in a court room in Sedalia at 1:30 p.m. Tuesday to be arraigned.