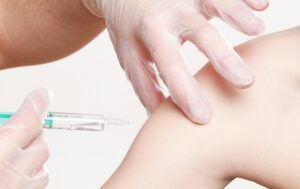 CARROLLTON — On Saturday, at least 1,100 more Missourians will be vaccinated against the coronavirus thanks to the mass vaccination event in Carrollton.
From 8 a.m. to 5 p.m., the Carroll County Health Department will be administering the single-dose Johnson and Johnson vaccine to residents in the 13-county Region A area who fall under the Tier 1B -Phase 2 qualifications on South Main Street at the former Old Places parking lot. As the day inches closer, a meeting was hosted Thursday morning to solidify the logistics of the event.
"Law enforcement is going to take care of traffic," Falke says. "The health department will be in charge of the vaccines. We have 1,1oo doses of the Johnson and Johnson and we'll fire up and start giving shots around 8 a.m. We hope by 5 p.m. we will have those 1,100 through."
The law enforcement Falke mentions includes the Missouri State Highway Patrol, Carroll County Sheriff's Office and Carrollton Police Department. Electronic signs from the Missouri Department of Transportation will also be in the area. According to Falke, a segment of South Main will be closed to accommodate for the event. Despite this, he says the event will not impact any businesses in the area.
"We won't shut down any businesses that will be open on Saturday," Falke says. "The segment that doesn't involve businesses that are in operation will be closed and we'll operate one-way traffic into the vaccination site."
As the appointments are in half-hour increments, Falke recommends entering the line at least a half hour before the scheduled time. For example, if an appointment was scheduled to be at 10:30 a.m., it would be safe to enter the line at 10.  Falke says there will be a contingency list in case there are shots left over at the conclusion of the event.
"In case we have shots left over at 5 p.m. when traffic runs out, then we will be contacting people on the contingency list," Falke says. "You can call the health department to get on the contingency list, you just need to be available at short notice to come down and get your shot if that situation occurs."
As of Wednesday, the Carroll County Health Department says slots are still available for any eligible person to make an appointment to get their vaccine. To register, call 660-542-3247.