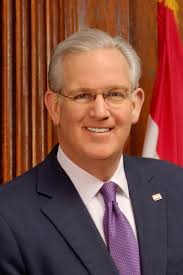 JEFFERSON CITY – According to a recent release, an attendance record was set this year at Missouri State Parks. More than 20 million people visited the parks this year, marking the first time that milestone has been achieved.
In northwest Missouri, the increased attendance included an 11 percent increase at Lewis and Clark State Park, a 30 percent increase at Weston Bend State Park and State Historic Site, a six percent increase at Wallace State Park and a  nine percent increase at Watkins Mill State Historic Site.
Earlier this month, Governor Nixon announced the addition of three new state parks in Missouri.
In 2009, the Governor set out to reverse a decade-long decline in attendance at state parks by embarking on an initiative to improve the parks, and set a goal of 20 million annual visitors in the parks by 2016.
"Missourians recognize the natural treasures we have in our state parks, and again supported the renewal of the Parks, Soil and Water sales tax with its highest margin ever just last month as 80 percent of voters approved renewal," Gov. Nixon said. "In turn, we've not only invested millions of dollars to maintain our parks and enhance the experiences of visitors, we've expanded our park system at the same time other states are closing or even selling their state parks. And as always, there's no admission fee to enter and enjoy Missouri State Parks."
In northwest Missouri, parks seeing significant attendance gains in 2016 were:
Lewis and Clark State Park, which received over 132,000 visitors (up from 119,352 in 2015)
Weston Bend State Park, which received over 236,000 visitors (up from 181,292  in 2015)
Watkins Mill State Park and State Historic Site, which received over 493,000 (up from 454,706 in 2015).
Wallace State Park, which received over 216,000 visitors (up from 204,265 in 2015).
In July, Gov. Nixon dedicated Echo Bluff State Park in Shannon County. The new park has not only brought in more than 300,000 visitors during its first five months of operation, it has also become a driver of the local economy, both through the construction jobs at the park site before it opened as well as the dozens of jobs needed to staff the park.
On Dec. 10, the Governor opened 47.5 miles of trail between Pleasant Hill and Windsor along the Rock Island spur of the Katy Trail State Park, enabling hikers and bicyclists to travel cross-state from the Kansas City area all the way to the St. Louis area along the world-renowned Katy Trail. Just last week, Gov. Nixon also announced that Missouri is adding three new state parks: Bryant Creek State Park in Douglas County, Eleven Point State Park in Oregon County, and Ozark Mountain State Park in Taney County. With the addition of those parks, there will be 91 Missouri state parks and historic sites.
Missouri trails and state parks are important drivers of tourism and economic activity; earlier this month, Gov. Nixon announced that the number of visitors to Missouri hit an all-time record of 41.7 million. An economic impact study found that visitors to state parks produced an overall economic impact of $1.02 billion and supported more than 14,000 Missouri jobs.
Gov. Nixon has also made a significant investment in the existing state parks and historic sites that make up the park system. During fiscal years 2014 and 2015, approximately $18 million was invested in improving and maintaining facilities in the park system. An additional $10 million in investments in improvements to state parks and historic sites throughout Missouri is currently being made through a strategic bond issuance, made possible by the state's strong fiscal discipline.
This fall, Missouri voters overwhelming reapproved Missouri's Parks, Soils and Water sales tax by its highest margin ever, with 80 percent of voters supporting the initiative. Missouri's Parks, Soils and Water sales tax is the primary source of funding for Missouri's nationally acclaimed state parks and historic sites.