MISSOURI — Bales of hay drying in the sun are a common sight in parts of Missouri, meaning that cooler weather is quickly approaching.
However, once the bales are dry, how they are stored could have a significant impact on the amount of winter feed a producer has available.
KMZU's Dan Watson talked with Shawn Deering, a Field Specialist in Livestock with the University of Missouri Extension, to find out how producers should store their bales to retain a majority of the feed while maximizing their available storage space.
Click below to listen to their conversation, which aired Thursday on KMZU.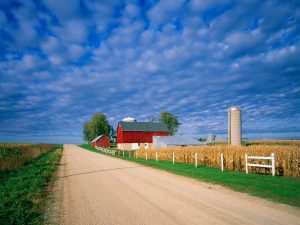 For producers that do not grow their own hay, purchasing bales at an affordable price is crucial to their bottom line. However,  weather events over the past few years have taken their toll on hay supplies and prices.
". . .in terms of what I think really affected hay supply and price, I think we have to go back to the historic drought we had last summer," Deering said, "and the winter that preceded that was pretty long and kind of tough. . ."
When considering how to store bales, producers must factor in what is known as dry matter loss, or hay lost during storage. Storing inside will have a greater impact on reducing losses than storing bales outside.
"For instance, take a big, round bale of hay and you store that outside on the ground," Deering explained, "and research has shown that in nine months time, you could lose anywhere from five to 20 percent of that. . .now the flip of that is if you take that big, round bale and you put it under a roof, you're probably going to cut your loss down to two to five percent."
If storing hay outside is the only option, avoiding shaded areas is strongly recommended. Also having a hard, possibly raised, surface to place the bales can help reduce matter loss better than on bare ground.
"If a barn is out of the question," Deering stated, "if you can have a gravel or hard-base type hay lot, that's going to help and just trying to orient those bales so that they kind of get some drainage going away from them is sure going to help you."
Should a producer have a storage shed, Deering suggests stacking bales on end and placing additional bales on top of the first row to maximize storage space.