DAVIESS COUNTY, Mo. – A Bethany teen is being held without bond on charges incurred during his arrest for out of county warrants today.
When a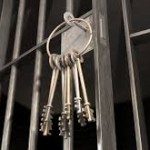 trooper in Daviess County stopped Dakota J. Smith, 19, for speeding, it was found that he was wanted on a Lawrence County felony warrant for larceny and a misdemeanor Webster County warrant for possession of marijuana. The officer alleges Smith, who was also driving without a valid drivers license, resisted arrest while being taken into custody.
Smith was transported to the Daviess-Dekalb Regional Jail to await formal charges.