A Richmond resident, Betty Lee (Maxwell) Dunford died Sunday, May 31.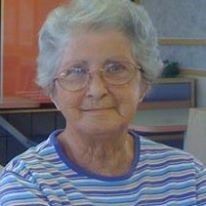 Friends may call Wednesday, June 3 from 9-12 p.m. at the Walker-Nadler-Fuller Funeral Home in Lexington. There will be a private family service.
In lieu of flowers, the family suggests memorials be made to Lexington Meals on Wheels in care of the Margaret Grey Center.
Betty was born August 28, 1926, in Lexington, MO, to Ralph and Jossie (Harrison) Maxwell. She graduated from Lexington High School in 1944. She then worked at several local businesses, including the Main St. Theater. She married Harry Dunford, also of Lexington, on July 3, 1947 in Monahans, Texas. The couple returned to Lexington in the early 1950s where they raised their family. She was a member of Lexington First Christian Church (later Presbyterian Disciples Church) where she taught Sunday School and was active in Christian Women's Fellowship. Betty was also a member of Lexington VFW Auxiliary Post 4052. With her husband, she was co-owner and manager for many years of Merchants Credit Bureau. After retirement, she was a faithful volunteer for Meals on Wheels. In 2018, Betty moved to Oak Ridge Assisted Living, where she was lovingly cared for by staff.
Betty was preceded in death by her parents, her husband Harry, son Bruce, brothers Ralph Maxwell and Larry Maxwell, and sisters Joan Maxwell and Rosemary Scharnhorst. She is survived by her children Karen (Rick) Helms, Lees Summit; Randy (Ann) Dunford, Lenexa; Nancy Kirby, Tonganoxie; and Diane Dunford, Lexington; grandchildren Adrienne, Susan, Megan, Kristen, Laura, Michael, Jacob and Joseph; great-grandchildren Chase, Quinten, Ethan, Hunter, Isabel, Kaleb, Isaac and Remington. She is also survived by brothers Donald Maxwell and Henry Maxwell and sisters Dorothy Renno and Janice Wilhoit.