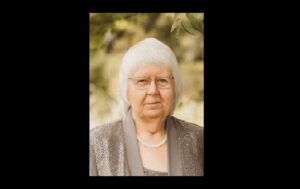 Beverly Bargfrede, 78, of Alma, MO, died Thursday, June 24, 2021 at her home.
Funeral services will be held at 10:30 a.m. Tuesday, June 29, 2021 at Trinity Lutheran Church in Alma
with Pastor Bernard Ross officiating. Burial will follow at St. Peter's Lutheran Cemetery in the Flora
community. Visitation will be from 6:00 p.m. to 7:30 p.m. Monday at Campbell-Lewis Funeral Home in
Concordia. Memorials are suggested to Trinity Lutheran Altar Guild or Lafayette County Cancer
Coalition. An online guestbook is available here.
Born November 27, 1942 in Higginsville, she was the daughter of the late Leonard George John Tieman
and Dorothea Clara Marie Dieckhoff Tieman. Beverly was raised in the Alma area, where she spent most
of her life, and was a 1960 graduate of Alma High School. After graduation, she chose to pursue her
dream of becoming a nurse and received her registered nurse degree from St. Luke's School of Nursing in
1963. Beverly dated Johann Bargfrede who was shipped overseas to Korea while serving in the United
States Army. She patiently waited on him and her patience paid off as they were married on April 18,
1964 and remained united until his death on June 12, 2014. After her graduation from nursing school,
Beverly started work at the Lexington Hospital in the OB department and remained there until she took
time off to stay home and raise her two sons, Chris and Jeff. When she returned to working, she became
the charge nurse and director of nurses for 9 years at Meyer Care Center in Higginsville. Beverly then
took a position with Meyer Medical Clinic in Concordia and worked there for 27 years until her
retirement.
Although she worked outside the home, she continued to be a homemaker for her husband and sons.
When Chris married Mary and Jeff married Sarah, they finally had girls in the family who would give
them the grandchildren she adored so much. Gavin, Dalton, Holden and Hannah were the light of
Beverly's life. She attended all their sporting and school activities and even volunteered at the schools.
She was always active in her church, Trinity Lutheran Church, and was a member of its Altar Guild.
Beverly was also a 4-H Leader for 35 years, served as secretary of the Lafayette County Cancer Coalition,
was a member of the American Legion Auxiliary and was an Accelerated Reading volunteer and coupon
clipper for the school. She had a passion for sewing and crafts and put that hobby to good use by sewing,
literally, thousands of bears for Children's Mercy Hospital. She was a member of the "Fab 4" who made
numerous trips to Branson, which she enjoyed so much.
She will be remembered by her two sons, Chris Bargfrede (Mary) and Jeff Bargfrede (Sarah), all of Alma;
her beloved grandchildren: Gavin, Dalton (Shelby), Holden and Hannah; her brother, Howard Tieman of
Kansas City; as well as nieces, nephews and extended family.
In addition to her parents and husband, Beverly was preceded in death by her sister-in-law, Jean Tieman.