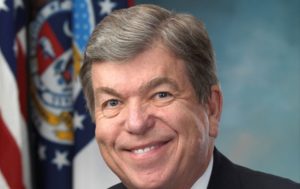 WASHINGTON —  We spoke with Missouri Sen. Roy Blunt on Tuesday on a variety of topics – from broadband funding to flood control along the Missouri River. This Newsmaker discussion focuses on Missouri's challenges of connectivity – both improving online access and roadways and other transportation infrastructure.
Blunt says he's been an advocate for rural broadband funding for a least a decade. Covid has made it clear why it's so important.
However, Blunt says the Missouri congressional delegation has fought hard to get those dollars to Missouri.
Some of that funding came through USDA's $500 million ReConnect rural broadband program – $7 million directly to Marshall Municipal Utilities, announced last week. Blunt expects to see continued efforts to increase online capacity since 26 percent of U.S. residents doesn't have broadband access. In Missouri, it's 30 percent, he says. Additional funding avenues may go through established communications and utility companies.
Good transportation policy matters to the country, Blunt says, but it matters more to Missourians to capitalize on the state's natural resources and location.
Improving the functionality of all modes of transportation will net jobs, he says. But competition among states is fierce.
Blunt hopes a priority early next year is a long-term — at least 5-year — transportation bill. Congress passed an extension to the transportation bill which expired on Sept. 30. The senator says the Missouri worked hard to obtain funding – around one-third of all federal transportation dollars this year — to replace the aging Rocheport bridge on I-70 and other improvements to the I-70 corridor.
But the state can't solely rely on the federal government, the senator says.
The bottom line is the Missouri Department of Transportation needs more funding.