MARSHALL, Mo. — Councilors will gather Tuesday in Marshall for a council meeting.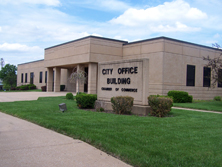 The meeting will begin with business from the audience, followed by committee reports, the city administrator's report and the mayor's report.
Discussion and appropriate follow-up for appointments to the public works board and the board of building code enforcement will be considered before bringing forward a resolution authorizing municipal services to purchase a refuse truck.
A number of ordinances tabled from the previous meeting will be considered, including the possibility of discontinuing a portion of two public alleys, in the 25 and 35 blocks of the college addition in Marshall.
Any other council business will be brought forward before adjourning to executive session.
The Marshall City Council will meet Tuesday at 6:00 p.m. at Marshall City Hall.