By: Garrett Fuller
BOONVILLE, Mo. – Despite the July 5th meeting being eventful in light of funding the IDA (Industrial Development Agency), which concerned many citizens with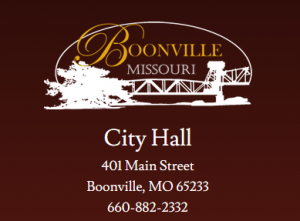 firearms manufacturer CMMG moving to Boonville, the July 18th meeting was kept short and sweet.
The meeting commenced at 7:01 PM. Only one councilwoman, Becky Ehlers, was absent.
Only one citizen had comments. Judy Stock, of Ward 3, made additional statements to her previous comments during the July 5th meeting. Judy Stock was the only citizen at the meeting in the audience who was in favor of the firearms manufacturer moving to Boonville. This time, Stock spoke on the economic problem in Boonville.
"We have lost at least 4 large companies, along with all of the jobs that were entailed. The bakery, for instance, had 80 to 100 inside plus all of the drivers," said Stock. "I think we need to work hard trying to get productive industries. It wouldn't necessarily have to be the gun company, but it has to be something that offers the citizens of Boonville work at a good wage."
Stock also mentions that despite CMMG only adding 10 jobs over the course of a year, it is a much-needed start to rebuilding the economy of Boonville.
After Stock had completed her comments regarding the economic issues in Boonville, the council approved the meeting minutes from July 5th. Susan Meadows made a correction before making a motion to pass, which was seconded by Ned Beach. The motion carried.
There was one piece of unfinished business, which was the second reading of bill 2016-023, which would approve the purchase of the Hail Ridge Golf Course. The motion passed, after being made by Morris Carter and being seconded by Ned Beach.
New business items started with considering Resolution R2016-09, which would approve an agreement with Cody Martin Excavating, LLC., of Eldon, Mo. to demolish the Kemper Administration Building. Morris Carter made a motion to pass the resolution, and Susan Meadows seconded the motion. The motion carried.
The second new item was the first reading of bill 2016-024, which would add a handicap parking space at 323 Morgan Street.
The last new item was considering Resolution R2016-10, which would "authorize the marketing/sale of 2016 Certifications of Participation and Authorizes Reimbursements of Certain Expenditures made prior to official date of issuance." Morris Carter made a motion to pass the resolution, and was seconded by Ned Beach. The motion passed.
Mayor Julie Thacher reported her appointment for a representative on the Hail Ridge Golf Course from the Isle of Capri Casino. Ned Beach made a motion to approve her appointment, seconded by Morris Carter.
Miscellaneous items included a demolition dumpster blocking one side of Locust Street, and comments on the new baseball field by the high school.
The meeting adjourned, which was motioned by Morris Carter, and seconded by Michael Stock.