COOPER COUNTY, Mo – Boonville Police is asking for the public's assistance with locating a missing person.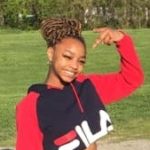 According to the Boonville Police Facebook page, Jamariah Bell ran away from home on August 22 and was seen getting into a white SUV with an unknown driver. Bell has family in St. Louis and was reportedly seen there on August 25.
Anyone with knowledge of her whereabouts is encouraged to contact the Boonville Police Department.