Article contributed by: Garrett Fuller
BOONVILLE, Mo.– The July 5, 2016, Council Meeting in Boonville was eventful for citizens and the council members themselves. The meeting took place a day late due to Independence Day, however, this did not stop the upset citizens from presenting their cases regarding Project Soda.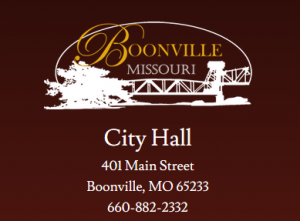 The meeting started at 7:02 with roll call. All city council members were present.
There were many citizens present to voice their opposition to funding Project Soda. Project Soda, which has been largely confidential until lately, was finally introduced in a packet. Project Soda would bring a weapons manufacturer, CMMG, Incorporated, to Boonville. CMMG is known for being a leader in manufacturing and selling the AR-15, which has been known as an assault weapon used in various mass shootings, including Sandy Hook Elementary School and Aurora Springs, Colorado. CMMG plans on inhabiting the old Indeeco factory, which has been empty since Indeeco left in 2012. The company expects to move 40 employees from their current facility in Fayette to the new facility when it opens, and eventually adding 10 additional employees over the course of a year. The IDA (Industrial Development Authority) is proposing to grant the company with a $200,000 forgivable loan.
Citizens voiced their opposition to funding CMMG with taxpayer money. Some citizens were upset that funding is going towards industry instead of local infrastructure, such as the outdated Boonslick Library.
However, one citizen did have a positive look on CMMG moving into town.
Citizen Judy Stock, of Ward 3, likes the idea of new industry moving to Boonville. She feels the company will be successful in Boonville due to the location, and people in the area who are interested in firearms and hunting.
"I hope it will have a good impact. CMMG is a thriving company now, and if it moves into the facilities indicated, it would have a better reach because they are near I-70, which would help with their transportation and distribution," said Stock, when asked about the impact that she feels CMMG will have in the community. Stock also feels that more Boonville citizens will acquire jobs at CMMG after current employees move or retire, and the employees there will be spending money in the community.
After all citizens vocalized their opinions on CMMG moving to Boonville, the council discussed Unfinished Business. City Administrator Irl Tessendorf spoke about Bill 2016-023, which would approve the purchase of Hail Ridge Golf Course.
The Council also read and approved Bill 2016-021, which approves local agency funding contracts for the 2016-17 fiscal year, and Bill 2016-022, which would approve the final plat subdividing a tract of land on Rocheport Road, currently owned by the IDA.
The Council then reviewed and acted on the IDA's request to appropriate money from the city to them. Citizens were upset once they learned that the IDA, whose funding is used for economic development project, could use for purposes controlled by the IDA board, including CMMG. However, the Council did not forget that they were voting on appropriating the money to the IDA, and not on whether or not to approve or deny providing CMMG with the $200,000 forgivable loan. The motion passes, 5-3, after much opposition.
Councilwoman Susan Meadows voiced her opposition to lending money to CMMG.
"I have asked for common sense gun legislation that does not take away the rights of the second amendment, but limits access to the AR-15 as a recreational weapon. It's a weapon designed to kill. If this company were simply doing government contracts, I might feel somewhat differently, but this is a company that manufactures the weapon for recreational use, and it is too easily obtained, which has led to so many tragedies.," stated Meadows.
Meadows feels that it will have a negative impact on tourists visiting Boonville.
"I feel it may stun tourists. I feel it would be off-putting to many tourists, given all of the tragedies we've experienced in the United States since 2012," added Meadows.
The meeting adjourned at 8:11.
The City Council will hold their next meeting on July 18th at the City Council Chambers at 7:00 PM.